The Noosa region is the gateway to the Cooloola Recreation Area and World Noosaville is a lively centre for holiday accommodation, aquatic activities, bars and restaurants and is centred around the sparkling waters of the Noosa River. A popular spot for locals and repeat visitors, Noosaville is ideal for families with safe swimming and a laidback, friendly atmosphere.
Things To Do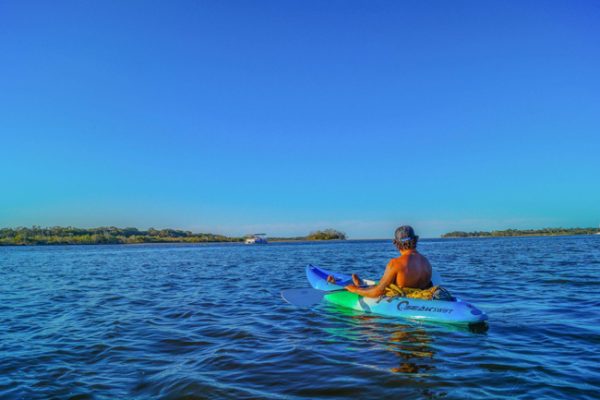 Water sports
Hire a jet ski, boat or kayak to explore the river or board the Noosa Ferry to travel between Noosa Marina and Hastings Street. Shop
Indulge in a spot of shopping – pick up new beach or resort wear and gear for aquatic activities, or call in at boutiques selling creations by local designers. Pick up the weekend newspaper and head… to a café or plan a picnic in a riverfront park and enjoy a dip in the calm waters of the Noosa River.
Read More Eat in Noosaville
Sample the diverse cuisine served at cafes and eateries along the waterfront. Gympie Terrace and Thomas Street are popular 'eat streets', with restaurants serving up tastes from around the world as… well as contemporary Australian fare. Choose from relaxed, budget eateries and award-winning restaurants or enjoy a seafood platter with water views. Order your favourite drink at one of the indoor/outdoor bars overlooking the river to sit and sip as you watch the passers-by.
Read More
Getting There
FrNoosaville is 5 minutes drive from Noosa Heads.
Gallery
Highlights
Explore the beautiful Noosa River – jump on a ferry
Hire a kayak and head out on the water
Walk the shops along Gympie Terrace and surrounding streets and take home a new dress, new pair of shoes or something beautiful for the home
Gather a group of friends and enjoy a day out on a pontoon boat
Walk, ride, rollerskate or jog along the foreshore and stop for some exercise at the outdoor fitness equipment
Relax over a coffee or cold drink at a riverside cafe or bar
Take the kids' photo in front of the Big Pelican
Have a thrill ride on a jet ski or jet boat
Take the most romantic ride of your life on a gondola
Get tips on great fishing spots from a local tackle shop and throw in a line
Try a licorice or rose petal ice-cream
Pack a picnic or grab some fish and chips and watch the sun set from along the river
Location
Information is sourced from Tourism Noosa